French Flowers
These stunning Côte Noire, French made bouquets make a beautiful, enduring, and decorative addition to any home.
Each flower has been skilfully hand crafted using a special, natural coating to give every petal a life like touch & appearance. The petals are then infused with fine fragrance, and each bouquet is presented in a stunning glass vase or golden goblet.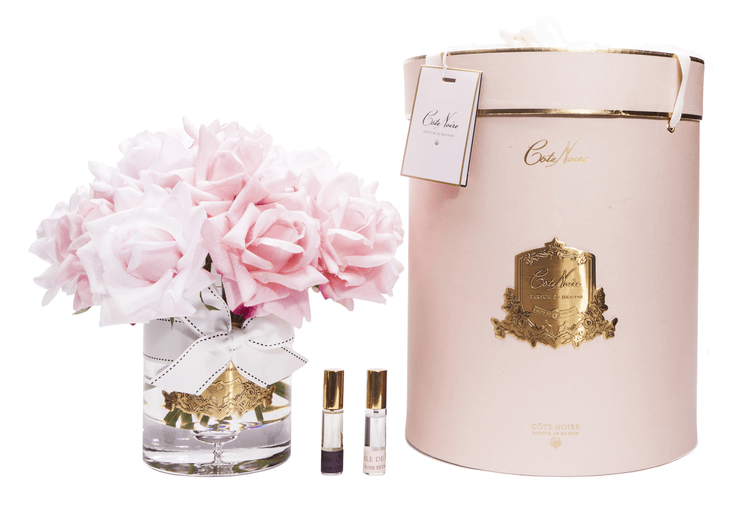 Luxury Candles
Combining dreamy scents and delicious aromas with the environmental benefits of natural bee wax or soy, my candle range set the perfect atmosphere for your most intimate and cherished 'time outs'.  The nine perfumes in the Côte Noire range originate from France, renowned for having the finest fragrances available, and all take inspiration from the provincial countryside with each striving to capture a portrait of French life. 
Enjoy Dark Chocolate
When it comes to our chocolates, we absolutely go the extra mile to select only the most gorgeous, high quality packaging which accommodates various quantities and combinations of products, along with stringent shipping protection, because we aim to delighted you as much with our presentation as we do with the yummies inside. As such, our chocolates are as suitable for corporate gifting, weddings, festival, events, thank you gift, and special occasions, as they are for your own self-indulgence.
Pamper Hampers
These hampers draw on products from across my entire site and are each customised to suit the specific objectives of your gifting initiative and or the interests of your recipients.  So contact me today so we can discuss the product mix and packaging options to ensure you and your gift are truly memorable.
"Our organisation gifted EnDarc Chocolates to our key customers for Christmas. Dealing with Khuraman was easy and delivery of the chocolates directly to our customers was fast and problem-free. To a person, our customers commented favourably with regard to the gesture, and to how much they enjoyed the chocolates. I have no doubt this initiative enhanced the relationship with our customers and the prospects for future business."
— Paul Daniel (Head of Partnering at Telstra Purple)
Corporate Gifting / Chocolate client.
"Khuraman is very honest and customer-oriented. Thank you for taking the time to just give me some awesome, friendly advice."
— Marina Gomberg
Beauty and Wellbeing client
"Khuraman's knowledge and customer service in all her businesses is outstanding. She is a very creative, kind, and passionate person."
— Ekaterina Torun
Wellbeing client
"After taking some time to look at unique options for corporate gifts we approached Khuraman to discuss our requirements. What we found was that each of her chocolate gifts are designed to be totally memorable. Our customer's response to these gifts has been excellent and the level of detail from the packing to the freshest ingredients makes this a truly memorable gift. I would not hesitate in recommending Khuraman and her gifting solutions to any organisation or individual."
— Saverio Motta (Cultural Ambassador at Ethan Indigenous)
Corporate Gifting / Chocolate client.
"After meeting Kay for the first time, I can tell how much passion, love and heart is given into each product."
— Erika Polianskyte Huynh
Chocolate client
"Have ordered for our anniversary-what can I say? It's the best chocolate we've ever had! Delicious, fantastic presentation. Thank you!"
— Ula Eden
Personal Gifting / Chocolate client.
"If you are looking for gifts that are made with love, are absolutely delicious, and something that people will rave about, look no further than Enjoy Dark Chocolate. Khuraman has provided me with many gifts for my clients. The speed of delivery is very fast and the product is absolutely delicious. She has also customised products to present our brand at the highest level. If you are looking for something that will make people say wow, I thoroughly recommend contacting Khuraman."
— Anthea Horvat (Business Strategist, Coach & Mentor)
Corporate Gifting / Chocolate client.